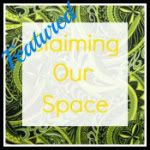 I've been submitting projects to various link/blog parties for six months now. As I was linking up to a party tonight, I scrolled down and saw that my
Antique Kids Rocking Chair re-do
was being featured as one of the top 4 projects from the week before!!!! (71 projects had been linked up). I had no idea I'd been featured, so I was really surprised to see the photo of my chair just staring back at me on some stranger's blog! Someone liked my work! I have been waiting for this moment of validation for six months!!!
If you want to check out the link to where I was featured, check it out here:
http://www.claimingourspace.com/2012/07/tout-it-tuesday-15.html
Here's the photo she put up on her page:
Thank you, Claiming our Space!!